HW3: Rearview Mirror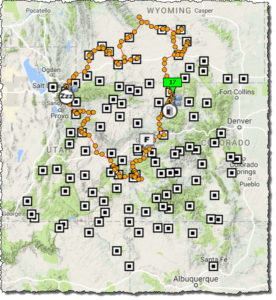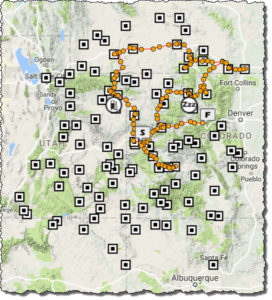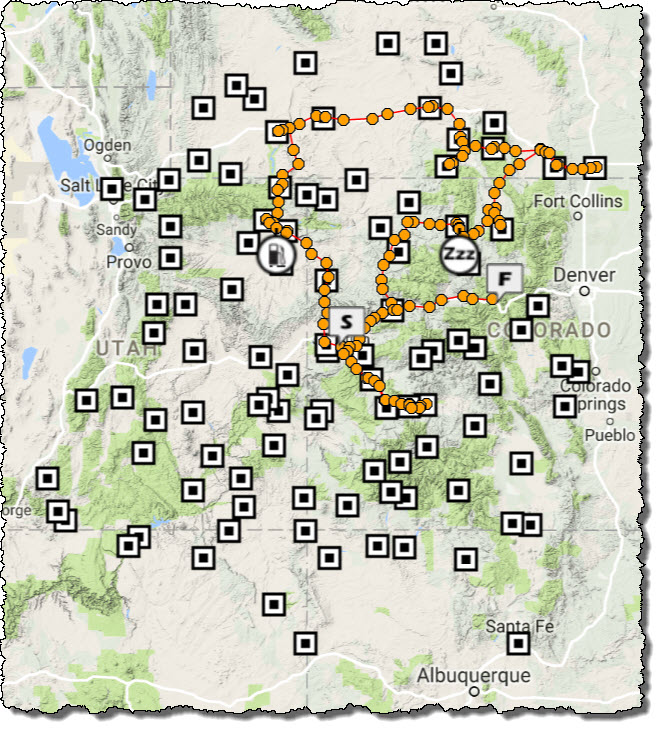 All is said and done, and it was fun! We managed to do what we set out to do – FINISH. Finishing required a minimum of 1,150 miles and a minimum of 5,000 points.
Doug rode 1,264 corrected miles and captured 7,905.8 points (42nd place). I rode 1,388 uncorrected* miles and captured 14,416.24 points (19th place).
The winner had 25,800-ish points!
Many thanks to the staff, they were great, and patient, and a lot of fun. We met lots of other cool people too. :0)
* My miles did not have to be corrected – Grim was spot on the expected mileage on the odometer check.
~~~~~~~~~~~~
List below printed with Rallymaster's permission.
HW3 Rally 2016 – Grand Junction, CO – Finishers
Place
First Name(s)
Last Name(s)
Write-Up
 Miles
 Points
 PPM
1
Erik
Lipps
      1,753.50
   25,871.84
  14.75
2
Wendy
Crockett
      1,556.10
   21,655.20
  13.92
3
Eric
Markus
      1,457.00
   21,070.43
  14.46
4
Josh
Mountain
      1,651.60
   20,250.40
  12.26
5
Andy
Mackey
      1,529.00
   20,067.55
  13.12
6
Bill
Lynes
      1,416.20
   19,676.00
  13.89
7
Michael
Brooke
      1,698.00
   19,641.40
  11.57
8
Nancy
Lefcourt
      1,342.20
   19,361.20
  14.42
9
Timothy
Allen
      1,368.70
   19,326.00
  14.12
10
Steven
Peugh
      1,607.80
   18,857.76
  11.73
11
Robert /Marlisa
Reil/Williams
      1,479.10
   17,027.40
  11.51
12
Rod
Schween
      1,516.30
   16,944.00
  11.17
13
Peter
Green
      1,640.40
   16,858.20
  10.28
14
Alexander
Shmidt
      1,525.10
   16,701.25
  10.95
15
Greg/Wini
Farmer
      1,351.50
   16,254.60
  12.03
16
Dave
Biasotti
      1,436.60
   15,622.40
  10.87
17
Tom
Daniels
      1,648.40
   15,597.54
    9.46
18
Ken/Linda
Schleman
      1,346.51
   15,116.80
  11.23
19
Rebecca
Rasmussen
      1,388.00
   14,416.24
  10.39
20
Paul
Meyer
      1,685.60
   14,187.60
    8.42
21
Phillip
Oconnor
      1,317.00
   13,469.60
  10.23
22
Bob
Scott
      1,211.10
   13,435.00
  11.09
23
Mark / Robin
Pierce/Freeman
      1,437.80
   13,390.88
    9.31
24
Roy
Kjendal
      1,458.80
   13,357.11
    9.16
25
Chris
Sims
      1,222.10
   12,382.00
  10.13
26
Kyle
Hayes
      1,186.70
   12,375.00
  10.43
27
Dale
Bundy
      1,529.60
   12,350.00
    8.07
28
Glenn
Pancoast
      1,369.20
   12,076.40
    8.82
29
Marc
Beaulac
      1,199.20
   11,993.40
  10.00
30
Tim
Hayosh
      1,633.80
   11,767.00
    7.20
31
Chris
Purney
      1,182.30
   11,655.20
    9.86
32
Jerry
White
      1,204.30
   11,599.80
    9.63
33
Mario
Winkleman
      1,205.40
   11,599.80
    9.62
34
Chuck
Lackey
      1,206.40
   10,742.00
    8.90
35
Paul
Stark
      1,164.00
   10,458.20
    8.98
36
Kip
Pesterfield
      1,159.20
   10,458.00
    9.02
37
Danny
Alsop
      1,158.80
   10,318.80
    8.90
38
Shawn
Hayes
      1,182.90
      9,998.20
    8.45
39
Tom
Houdek
      1,171.20
      9,560.20
    8.16
40
Terrence
Moore
      1,172.20
      8,918.20
    7.61
41
Richard
Swim
 Read
      1,253.60
      8,828.40
    7.04
42
Doug
Rasmussen
      1,264.00
      7,905.80
    6.25
43
Richard
Leighton
      1,266.00
      5,881.00
    4.65
44
Bill
Aviles
      1,192.20
      4,583.00
    3.84