Dana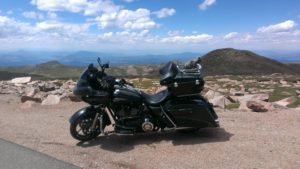 DANA – in her own words: Since this site [started out mostly] about motorcycling I'll be brief and describe my biker side.
I was introduced to motorcycles when I was quite young through my cousins the Killians and Scholes. They owned mostly off road motorcycles as they were a good fit for working on the nearby farms. The younger cousins and I would play "Dirt Bike" often. The first time I remember playing this game was while visiting Uncle Kay's house while the foundation was being prepared for his cabinet-making shop. We found small scraps of wood and nails and assembled our "handlebars", a basic T shape. We ran through, up, over and all around the foundation trenches making motorcycle sounds, jumping and popping wheelies. I remember asking once why we didn't have motorcycles. The answer was that we lived in the city and had no need for a farm bike.
The first time I rode on my own I was 12, and riding my cousin Bruce's Honda 50 mini bike. That ride lasted only a few short minutes as I quickly learned how one looses steering capability in deep loose gravel. I ended up with 10 or so stitches and a nice scar down my right forearm to the elbow.
I rode a few more times growing up, mostly while working on a farm moving irrigation pipe. During the summer between my Junior and Senior year in High School, I had gotten my driver's license and stayed the summer with my older brother Ken and his family in West Valley UT. Ken allowed me to ride his Honda Goldwing 750 to and from my summer job. I also took my first ride of any distance, riding from West Valley to Idaho Falls to see my friends.
I pretty much stopped riding until 2008 when I found and purchased BoneZ, a 2008 Harley-Davidson Crossbones (Soft-tail Springer). I have since put on 45,000 plus miles on BoneZ including required trips to Sturgis Bike Week, and an Iron Butt lunch trip from Highlands Ranch CO to Topeka Kansas. [BoneZ has since gone to a new loving home.]
Early in 2013 while on a ride with fellow Harley Owners Group (HOG) members we made a stop at High Country Harley-Davidson in Frederick CO. As we walked through the doors there she was. Dusty! a 2013 110th Anniversary CVO Custom Road Glide. She was up on a chrome diamond plate display stage. My mouth immediately fell open as if I were visiting a gentlemen's club for the first time. This, along with the fact that it took all my money to get her to come home with me and that she still takes most of my money, has earned her the nickname of "My Stripper" bike. Dusty and I have gone on many rides, Sturgis, Iron Butts, and a H.O.G. tour to get lobster in Bar Harbor Maine.
L.C. is a Whine-ar-ahmer, Dana's supervisor, and a raptorweimer escape artist. She has her own facebook page if you want to follow her.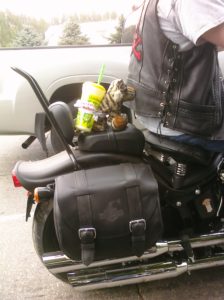 BIKE GRR – Dana does not remember having a teddy bear as a child, however, she did have a stuffed tiger. Who lived within the Idaho Falls High School's (the Tigers) boundaries and didn't? This story was relayed to Dana's person Becca and after some time Bike Grr was located at a local adoption agency (store). Shhhh, don't say that too loudly Bike Grr thinks he has always just been.
Bike Grr has since become Dana's riding companion and one of her alter egos. Grr, as he's called most of the time, is a smart ass, saying things that would normally get Dana in trouble. Grr does have his own riding vest complete with patches and Sturgis Bike Week pins for the years he's ridden there. Grr can also be pretty demanding and stubborn. Recently he has insisted that both BoneZ and Dusty are his bikes and Dana is just his driver.