Becca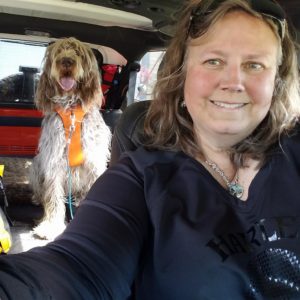 BECCA had some small exposure to motorized cycles in her youth – a brother with a moped and a father who, for a very short time in Becca's memory, had a sport bike and took her for one (or maybe two) rides. Sadly, Becca fidgeted too much and wasn't invited back before the bike mysteriously disappeared from the household.
Since then, she had always held in the back of her mind the idea that motorcycling was fun but she really wanted her own bike (perhaps so no one would fuss at her for fidgeting?) and that bike should have 3 wheels. In 2008 she started on an H-D Sportster (Sporty), quickly got training wheels for it (Voyager Conversion Kit), then in 2012 she moved up to an H-D trike (Red Reaper), which was cursed, so she now rides a 2015 H-D Trike (Grim).
She thinks short local rides can be fun, but longer rides — with or without many stops — are her calling. She has several certified IBA rides under her butt and plans many more in the future along with enjoying other scavenger rallies which do currently include trikes. She's a route-planner (some might say "obsessively so") and documents processes (because, she says, otherwise she'd forget!) so look for more information to be shared on that here in the future.
Also on the horizon for Becca is full time RVing, with a location-independent job (at least until she becomes independently wealthy and we're not holding our breath on that one) and a spirit of adventure.
LU C. FUR is a Spinone, and Becca's supervisor, who goes along with most anything. She has her own facebook page if you want to follow her.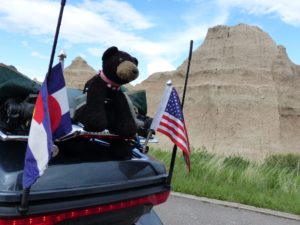 BRR BEAR has been riding all of her life, and fully supports the idea of adding an adventure bike to the travel kit.
She loves bacon, Rudy's moist brisket, going for rides anytime-anywhere-anylength-anyreason, hibernating, tormenting Bike Grr, and wheeling around in the Jeep. She's up for trying out RVing as well.
Her favorite riding location is atop the tour pack, and she's responsible for watching where they've been in order to remember where they want to go again, for checking the rear wheels (in case one should fall off; yes, there's a story in that which will be shared someday), and for waving – well, really, staring – at passersby.
To further contribute to the team, she monitors the flags, is responsible for the cause-bands (e.g. anti-Breast Cancer) and the organized ride memorabilia bands (e.g. Lakes and Lobsters R.U.S.H. tour). Her favorite keepsake is a skull necklace graciously gifted by a riding friend (thanks, Chuck!).